How to Choose the Best Inflatable
Stand-up Paddle Board Under

$400



People are always looking for fun ways to stay fit, such a large variety of water sports means that there's an option for everyone. However, not every sport lovers can afford the time or money to invest into so many different choices, that's where an ISUP bridges the gap.


An inflatable stand-up paddle board is one of the fastest-growing water sports around the world, it's a lot of fun, and it's a great way to get in touch with nature too. Beginner stand-up paddle boards can be divided into two categories: all-around boards designed for exploring oceans, flat water, lakes and rivers; and race/touring boards built for speed and long-distance paddles.

These paddle boards come in many sizes, shapes and weights. Most boards weigh between 25 and 40 pounds and measure 10 to 14 feet in length that giving plenty of options for new paddlers looking to find the perfect board. The most common features on a board are a handle, typically cut in the center of the board for easy access when carrying it; a cushioned deck pad for increased comfort and traction; and fins which allow the board to track straight when paddling.

Inflatable stand-up paddle boards are basically bigger surfboards. Their larger size yields more buoyancy which is critical for keeping a person afloat even when they are not moving. The overall buoyancy of a board is affected by the board's length, width and thickness, often this information is listed as board volume and is measured in liters.

A board's material can affect the buoyancy too. It is important to find a board with enough buoyancy to put your body weight sufficiently as if the lower the board sits in the water, the less stable it becomes. For example on Orange Manta Ray board, lighter paddlers will float higher and therefore be more stable than a heavier person on the same board. This is due to the fact that the heavier person will cause the board to be lower in the water. Usually, the maximum load capacity of our normal ISUP is between 150kg-160kg, you can tap us to confirm.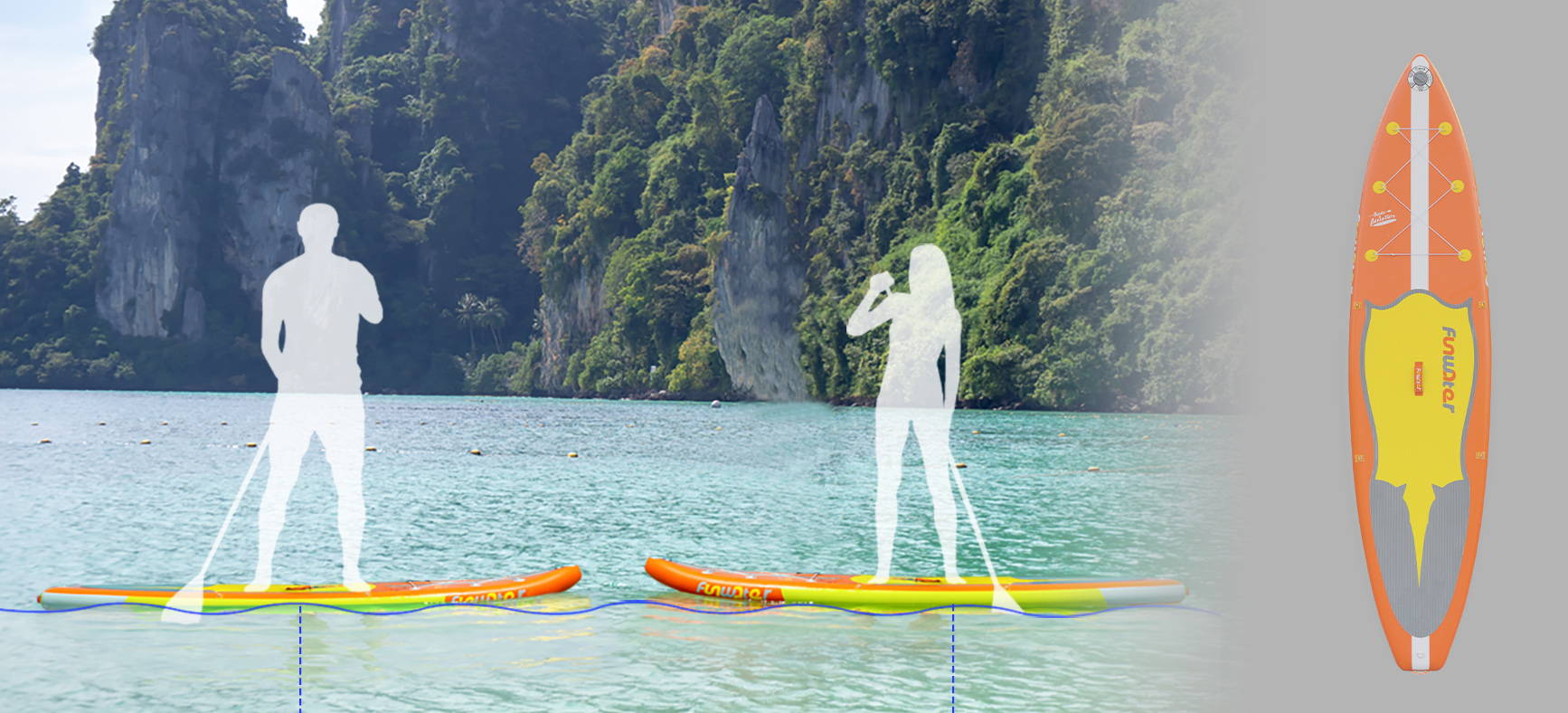 The length of an ISUP and its width both impact how it moves through the water. A longer board will do so faster, straighter, and more efficiently than a shorter one. Board's stability is directly proportional to its width, as the wider the board, the more stable it will be.
Beginner paddlers should therefore opt for the longest they can store and transport by themselves between 10 feet 6 inches and 14 feet long, New Tiki 10'6" is the best playmate in all-around.

With narrower boards, you are guaranteed to be fast but the boards are harder to ride. Beginners like to start out on a wider board—between 30 inches and 36 inches wide—so that they can learn how to balance and maneuver their feet. For people with experience, you can try harder boards as much as you preference.
Zone 11" is the best stand up paddle board for ocean and can't wait to be a new soulmate in your next adventure.

The final thing to look at when shopping for an ISUP is the shape of its hull.
There are two main types: planing and displacement.
A traditional surfboard style planing hull is round and flat, with water being pushed down by the nose of the board then lifts up. This type of hull can be a good choice for beginners because it's stable and easy to paddle.
A displacement hull has a pointed nose similar to a kayak or canoe. This allows them to cut through the water, so they can travel long distances without using as much energy. They're also very stable, so you don't have to worry about tipping over and they can go farther than other types of boats.
Inflatable stand-up paddle boarding is a new way to get out in the water, but finding the right board for yourself can be tricky. The best way to get started is by trying as many different boards as possible.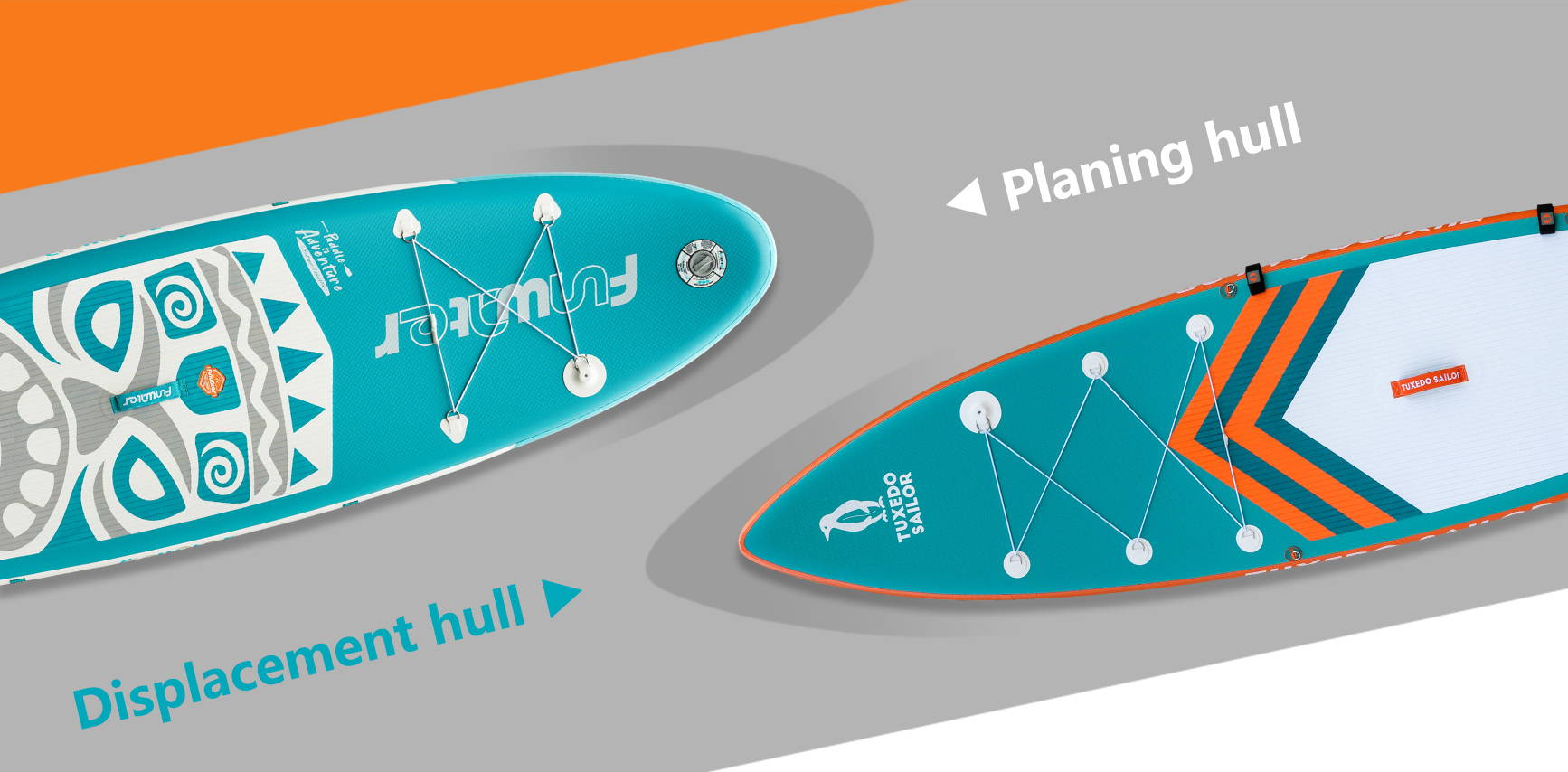 Funwater Outdoor is the company which provides the best quality products to meet the needs of water sports enthusiasts in different levels, we aimed to provide affordable paddle board to various sport lovers as a preferred partner in this summer.
Our team is at your service 24 hours per day for your convenience.