Why Electric Pumps are Better for SUP Inflation?
Stand-up paddle-boarding (SUP) is a rapidly growing water sport, and with it, the need for efficient and convenient inflation devices has increased. While traditional manual pumps have served this purpose well in the past, SUP electric pumps have recently emerged as a superior alternative for SUP boards inflation. In this blog, we will explore the reasons why SUP electric pumps are better for SUP inflation.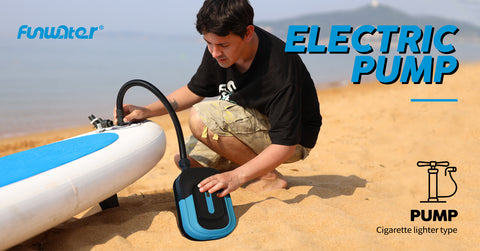 Are SUP Electric Pumps More Convenient and Efficient?
SUP electric pumps offer unparalleled convenience and efficiency compared to manual pumps. These pumps are powered by motors, eliminating the need for manual pumping and saving you precious time and energy. With an electric pump, you can inflate your SUP board quickly and effortlessly, allowing you to spend more time on the water and enjoying your SUP experience.
Are SUP Electric Pumps more precise than Manual Pumps?
An SUP electric pump's pressure gauge allows you to accurately monitor the inflation pressure of your SUP board. This prevents over- or under-inflation, which can damage the board or affect its performance. With precise control over the inflation pressure, you can ensure that your board is properly inflated and ready to use.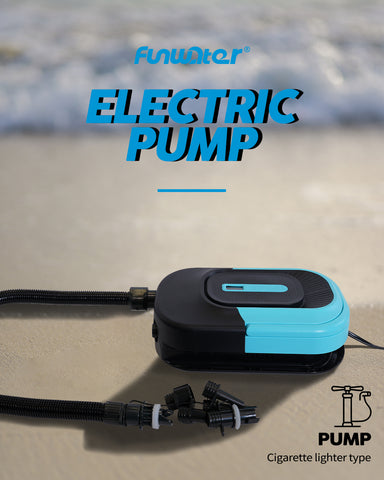 Are SUP Electric Pumps Easy to Use?
SUP electric pumps are simple to operate, usually with just a few buttons or switches. Following the included instructions or guidance, it is a breeze connecting the pump to the board and inflating it. Additionally, many electric pumps are lightweight and portable, making them easy to transport and store when not in use.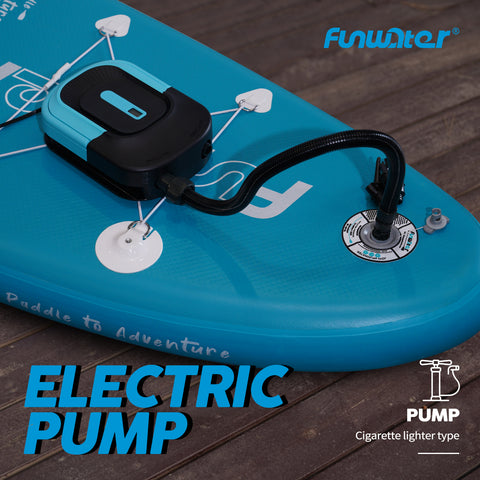 SUP Electric Pumps are Future-Proof Technology.
With the advancements in technology, SUP electric pumps are becoming more efficient, reliable, and longer-lasting. As battery technology improves, electric pumps will become even more powerful and convenient, adapting to the evolving needs of SUP enthusiasts.  
Funwater has recently introduced a new type of electric pump that can both inflate and deflate SUP boards. This unique feature does not only make it easier to deflate, but also means that you can quickly and easily adjust the inflation level of your board based on the conditions or type of activity you are planning to engage in. Whether you need to add more air for stability or reduce it for portability, an SUP electric pump provides total control and flexibility.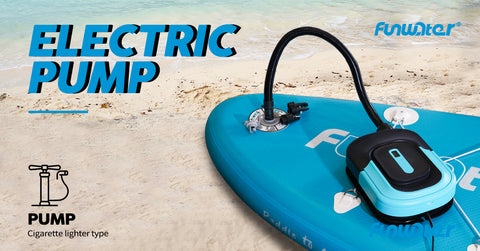 In conclusion, SUP electric pumps offer numerous advantages over traditional foot pumps for SUP inflation. They are more convenient, efficient, precise, and future-proof. If you are looking for the best way to inflate your SUP boards, consider investing in an SUP electric pump to ensure you get the most out of your SUP experience.
---